The perfect set up location for your SelfieShow
With SelfieShow you have a great way to wow your guests with a live photo show. But where is the best place to show the photos? Today I show you my best experiences.
What is SelfieShow?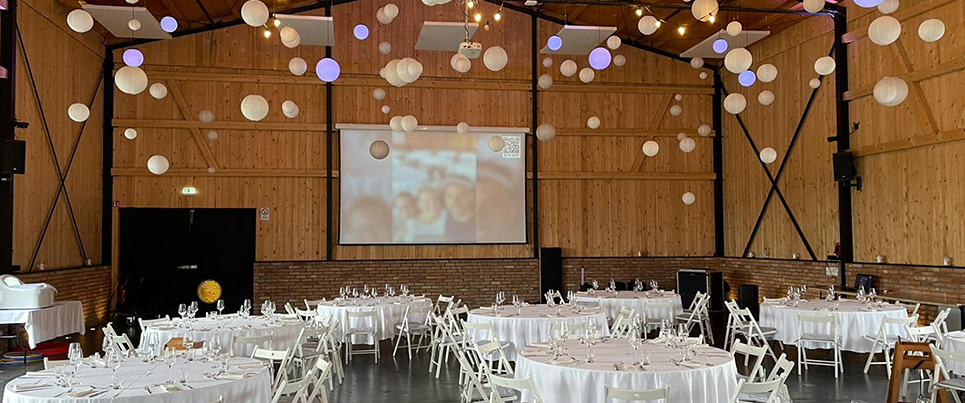 SelfieShow is the innovative and fun entertainment for your guests. You and your guests can take photos with your cell phone at your event or wedding and send them live to a screen on site. Everyone is part of the action and you can organize fun photo games.
The best part: your guests don't need any additional app, everything works with the well-known messengers WhatsApp or Facebook Messenger. So really everyone can manage and no one needs to install anything first.
Find out why SelfieShow is better than a photo booth: Why SelfieShow is better than a photo booth.
Where is the best place to set up the screen for SelfieShow?
Where you set up the canvas for SelfieShow is an important factor in how intensely your guests will engage and how many authentic photos you will get. First, let's take a look at the criteria that are important for choosing the set-up location.
How well can your guests see the screen at dinner?

The better the guests can see the screen during the meal, the more they will be motivated to use SelfieShow. Especially at the beginning of the celebration, it is then very entertaining to play fun photo games via SelfieShow. This way, your guests will be entertained while they are still eating.

How well can your guests see the screen while dancing?

Dancing in particular often creates fun and authentic images that you'll enjoy looking at years from now.

How far is the screen from your guests?

On the one hand, the screen should be as close to the guests as possible, so that you can see them well. However, if you have a very large screen, you can of course position it further away or above.

How easy is it to set up the screen at this point?

If necessary, is the screen in the way of the guests? It is best to put the screen directly on a wall or hang it there. Many locations already have screens on the walls or ceiling, then you do not have to worry about the setup.

How well can you place the beamer / projector in front of the screen?.

The beamer / projector should also not be in the way of the guests. Ideally, this hangs on the ceiling. Then he has "free view" of the screen and does not interfere. Also ask here umbedingt at your location whether not already a beamer is permanently installed.
How to find the best installation site
Look at the above criteria and then check the room plan of your location. Ideally, the screen will be visible from everywhere, not too far away and the projector will not be in the way.
Also, be sure to ask your location, often there is already a screen that can be extended, for example, and a projector hanging from the ceiling. So you do not have to worry about anything.
Beamer and laptop or tablet - that's all you need
SelfieShow works easily with a projector, laptop or tablet. Alternatively, you can of course use a larger TV or screen. You can rent these things directly at most event locations. So you don't have to order a complicated photo booth, set it up and send it back, which especially reduces the stress after the celebration.
Guests need nothing more than internet and their favorite messenger!
Curious now?
Sounds exciting? Then just sign up for free and try SelfieShow. If you have any questions, you can always write or call us, we'll be happy to help!