Celebrate your wedding with our SelfieShow
With the Selfie-Show, party fun at your wedding is guaranteed! Your guests can send photos and selfies during the wedding day directly via their smartphone to a screen so everybody can see them.
The best part is: guests don't need to download a new app or register for a new service. Everything works using the messaging tools they already have and know how to use: WhatsApp and Facebook Messenger.
Sign up now for free and try out your own personal Selfie-Show.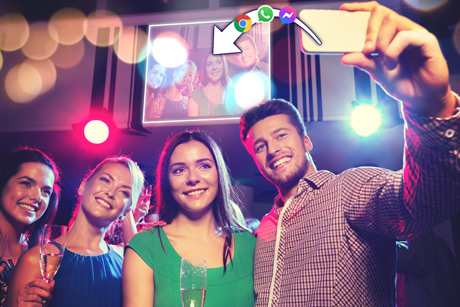 How does Selfie🤳Show work?
The SelfieShow is very easy to use! Just register at SelfieShow and set up a projector with a screen or a big TV on site. Connect a laptop or iPad to the projector and off you go!
Your guests can easily join in:
📷 Scan QR code on the screen
🤳 Share selfies and photos via WhatsApp and Facebook Messenger
🥳 Have fun!

Create and customize photo show
Just sign up on SelfieShow and customize your live photo show to your needs.

Setup a projector or TV
Setup a projector or TV with a laptop or tablet and open your live photo show in the browser.

That's it!
Your guests can directly share their photos live on screen using WhatsApp or Facebook Messenger!
Advantages that are only available at SelfieShow!
Your guests don't need any new app and do not have to register anywhere.
You can download all photos - no more asking around for pictures!
You will get many authentic pictures of your wedding. And let's be honest, these are the ones you remember best later on!
Your guests can use their favorite apps to edit their selfies. Bunny ears? Dog nose? Beauty-Filter? Not a problem!
Because the selfies appear on the screen immediately, your guests will be motivated to take more photos!
Use your favorite messenger app!

WhatsApp

Facebook Messenger

Browser
SelfieShow instead of Wedding Photo Booth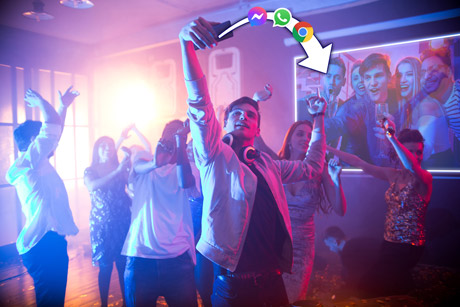 Everybody has seen photo booths at wedding receptions. But SelfieShow is more fun! Find out more!
Your guests can take photos anywhere and not just at one place, which is normally somewhere in a corner.
You get a lot of authentic pictures and not the boring posed ones.
Your guests can use their favourite apps to edit and enhance their photos.
SelfieShow is much cheaper and you don't have to rent and setup the photo boot

Better than a photo booth!

Make your Christmas Party fun!

Interactive fun for your guests!