SelfieShow for your bar or nightclub
With the SelfieShow you can offer your party guests an interactive photo show! Your guests can send selfies and photos directly live to a projector or several TVs.
The great thing about it: Your party guests don't need a new app or have to register on a website. It all works through WhatsApp or Facebook Messenger, the messengers that everyone knows!
Register now for free at SelfieShow and test our SelfieShow for your bar or nightclub.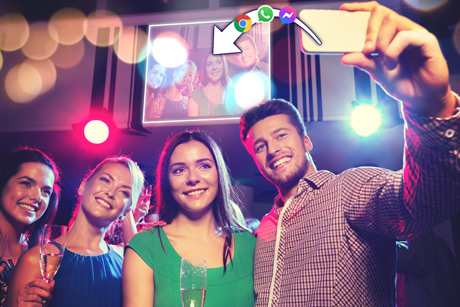 How does Selfie🤳Show work for bars and nightclubs?
The SelfieShow is super-easy to use! Just log in to SelfieShow and open the SelfieShow in the browser on the screen or on the TV.
All your partygoers have to do:
📷 Scan QR Code on the screen
🤳 Share photos and selfies with WhatsApp or Facebook Messenger
🥳 Party on!

Create and customize photo show
Just sign up on SelfieShow and customize your live photo show to your needs.

Setup a projector or TV
Setup a projector or TV with a laptop or tablet and open your live photo show in the browser.

That's it!
Your guests can directly share their photos live on screen using WhatsApp or Facebook Messenger!
Advantages for your bar or nightclub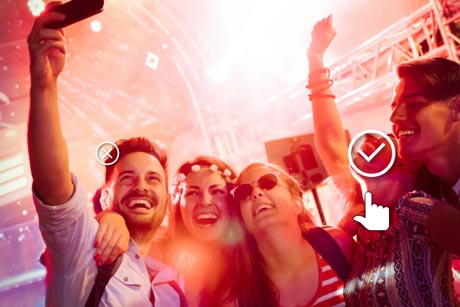 You will receive many photos of your guests and can later post them on your website.
Your guests do not need to install a new app or register.
Apps for filters and effects still work. Simply share them after editing via WhatsApp or Facebook Messenger.
No expensive software is required for the SelfieShow itself, it simply opens in the browser.
If you have multiple TVs, you can simply open the SelfieShow multiple times. If no new selfies come in, the previous ones will be shown randomly.
Your guests will enjoy interactive selfie-sharing!
Using the moderation view, you can easily approve photos before they appear on the screen with a single click.
Use your favorite messenger app!

WhatsApp

Facebook Messenger

Browser
Frequently asked questions about SelfieShow for bars and nightclubs
Can I try the whole thing first?

Sure, just register for the free account and test it for free. No credit card or payment information required.

With how many guests does the SelfieShow work?

The SelfieShow scales without problems, even with several hundred guests simultaneously.

Are the photos public?

No, the SelfieShow is protected, only the owner can view or download the photos.

Can I delete unwanted photos?

SelfieShow provides two ways to moderate photos. You can either approve photos in advance, or you delete unwanted photos after they have been shown. They will disappear from the screen after a few seconds and cannot be uploaded again. The moderation view can be easily run on a laptop or iPad and provides easy photo approval with just a single click.
What if someone does not have or does not want to use WhatsApp or Facebook Messenger?

No worries. The SelfieShow can also be used directly via the camera function of the mobile phone.

Do I need Internet on site?

Yes, both the guests and the display via screen and TV require an Internet connection.

How fast must the Internet be?

A normal DSL line is completely sufficient. The photos are loaded sequentially and are only displayed when they are completely loaded.

Does this work without a QR Code?

Yes, you can alternatively distribute the Internet address of the SelfiShow and the personal PIN.

I want to use the SelfieShow more often, do I have to book a new package every time?

For such cases we can make you a special offer. Just write us a short e-mail.
You will find even more answers in our Help & FAQ.