These pitfalls await when renting a photo booth
Renting a photo booth quickly costs up to 500 USD. But even with the high price, things often go wrong. I show you today on what you have to pay attention and how it can be done differently!
Rent a photo booth - these things can go wrong!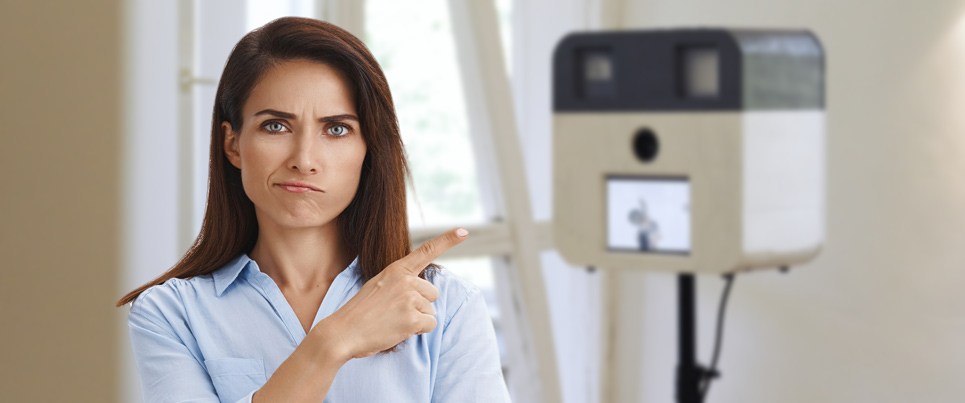 Many bridal couples come up with the idea of renting a photo booth. What sounds good at first glance, unfortunately, has some pitfalls. So we hear again and again from bridal couples, where the whole thing went quite wrong and instead of a good mood only frustration was announced.
The photo booth arrives too late! 😴
Many rent a photo booth online, which means you get the photo booth sent by mail in a large package. The first trap is already waiting for you there. Of course, the rental companies want to serve as many customers as possible with as few photo booths as possible. For this reason, you will receive the booth only one or two days before your event.
Anyone who has ever ordered something from Amazon knows that the shipping companies are not always 100 percent reliable. So packages also sometimes remain in the parcel center or the delivery person has a bad day and pretends you're not home. Then you may need to pick up the photo booth on the next working day at the post office, and he is in the worst case after your event.
The photo booth does not work! 😠
photo booths contain now quite a lot of technology. A camera, touch displays, batteries and so on. Sometimes it happens that the booth is simply not working after setting it up. Unfortunately, it is then often too late to procure a replacement.
The photo booth breaks down, and you have to pay! 😡
The later the evening the more happy the mood becomes. If the photo booth is located near the dance floor, it can happen that it falls over. Mostly this is then immediately a total loss, because camera and displays are usually very sensitive. In this case you not only have to pay the rent for the photo booth, but also have to compensate the damage. Some providers include insurance, but the deductible is often several hundred USD.
The photo booth arrives too late at the rental company again! 😴
Not only on the way there, but also on the way back, something can go wrong during shipping. In many cases, the renatal company has already scheduled the photo booth for the next customer. If it does not arrive on time because the mail was slow, or you did not make it to the post office directly on Monday morning, you will be charged immediately for additional days in many cases.
Guests don't use the photo booth. 😒
Honestly, it must be said that photo booths are no longer a "world novelty". Many guests have already seen such a booth at other events and weddings and also know the pictures that are created there. And unfortunately, they often look pretty much the same. The result is that the photo booth is not used as you imagined, and you have spent a lot of money for little fun with your guests.
SelfieShow - the innovative alternative to the photo booth
With SelfieShow all this can't happen to you. With SelfieShow your guests can send selfies and photos from their phone live to a screen. All without an additional app.
All you need is a screen, projector and a laptop or tablet, which is usually already available at the locations. You don't have to go to the post office and save yourself all the stress. You can wow your guests with something new and get lots of great pictures of the evening.
But another big plus are the actual photos. While those from photo booths often look posed and always the same, the photos of your guests are individual, fun and exciting. These are the photos that you will enjoy looking at even after a few years and remember your big day.
For more information on why SelfieShow is better than a photo booth, click here: Why SelfieShow is better than a photo booth.
A projector and laptop or tablet - that's all you need
SelfieShow works easily with a projector, laptop or tablet. Alternatively, you can of course use a larger TV or screen. You can rent these things directly at most event locations. So you don't have to order a complicated photo booth, set it up and send it back, which especially reduces the stress after the party.
Guests need nothing more than internet and their favorite messenger!
Curious about this?
Sounds exciting? Then just sign up for free and try SelfieShow. If you have any questions, you can always write or call us, we'll be happy to help!